NeuroRehabilitation Specialist
At Enable Exercise, our certified neurophysiotherapists and exercise physiologists are committed to providing personalized, evidence-based neurorehabilitation programs tailored to meet your unique needs. Whether you're dealing with the aftermath of a spinal cord injury, managing the motor symptoms of Parkinson's, coping with the challenges of multiple sclerosis, or navigating the complexities of cerebral palsy, our team uses state-of-the-art techniques to improve your quality of life.
Spinal Cord Injury: Specialized exercises to improve muscle strength and daily functioning.
Parkinson's: Targeted movements to manage tremors and enhance mobility.
Multiple Sclerosis: Adaptive exercises focusing on balance, coordination, and muscle strength.
Cerebral Palsy: Pediatric and adult programs aimed at enhancing motor skills and posture.
Stroke: Customized rehabilitation exercises designed to accelerate recovery and improve quality of life.
Brain Injury: Therapeutic interventions to restore physical and cognitive functions.
Our ultimate goal is to empower you to regain independence, boost your mental well-being, and achieve the highest level of physical functionality possible. Trust Enable Exercise for a holistic approach to neurorehabilitation.
Full Body Exoskeleton -
Now Available At Enable Exercise
If you or a loved one has a spinal cord injury, stroke or other neurological conditions and diseases that make walking difficult (such as Brain Injury, Multiple Sclerosis, Spinal Cord Injury, Cerebral Palsy, Stroke), it can be tough to know where to start. Our neuro physiotherapists and exercise physiologists at Enable Exercise understand and have experience with evaluating patients who have a wide range of conditions to determine if this cutting-edge technology is right for them. With our help, our clients are able to begin using this device to move forward with their rehabilitation. Learn more about our Exoskeleton…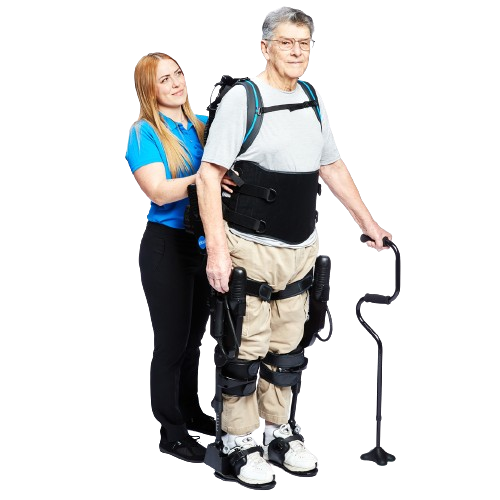 Our Key Differences
Our Clinic
Not your average gym. Our clinic is equipped with specialised equipment that are specifically designed to assist people who suffer from a physical disability. Call us to find out more
Home Visits
Can't travel to us? We provide home visits so you can exercise in the comfort of your own home. We cater for most Sydney regions. Call us to find out if we can travel to you.
After Hours
We understand how difficult it can be to find time to exercise between school and work hours. That's why are are open after hours and on Saturdays. Call us to find out when we operate.
Phone Assessments
Read More
Phone Assessments
Want more value out of your session? Our experienced therapists can conduct a phone assessment before you attend the initial session, helping us to prepare as well as saving you time.
Phased Based Recovery
Read More
Phased Based Recovery
Sick of working hard and not seeing progress? Our therapists can help you break your goal down into phases that are determined by your recovery.
Telehealth
Live remotely or want to incorporate your supporters into your workout? Our telehealth service can help you design a home program without leaving your home. Call us to find out if you can benefit from Telehealth
Enable Exercise is here to help you achieve your personal goals and overcome physical and rehabilitation challenges after a neurological deficit. By understanding how the neurological condition has impacted your life, we work with you to construct your exercise regime.
Testimonials
Katelyn Papakostas
2022-09-05
Such a welcoming and encouraging community! And everyone who works there is absolutely amazing and will work with you at a pace that you are comfortable with, but also challenge you to achieve more than you think you can where safe to do so.
Very nice and clean environment with many equipments. Friendly and professional staffs that always provide good rehab management plan for client.
A gym with expert exercise physiologists who are also very motivated and caring. My son looks forward to and enjoys his session at Enable. The staff are friendly and welcoming , with a very positive and supportive manner. His trainer provides a specialised plan and assistance to help him improve his movement and stay fit. They also take an interest in him personally and have made great connections with him.
Michael Simpson
2022-07-13
After my spinal surgery in 2018, I never thought I'd be able to walk long distances with crutches, walk up stairs or be able to swim in a pool. The therapists at Enable Exercise have helped me do all these things and the progress is still ongoing. They have given me the support I needed to improve my confidence, knowledge and independence. All the therapists are amazing. I highly recommend this service.
Alexandro Castro-Martinez
2022-05-20
Take great care of my brother. Always coming home with good stories and is looking better than ever
My child has been attending for over a year and we have seen a vast improvement both physically and in their confidence. Enable are friendly, professional and also able to connect with my child to explain things on a level she can understand. Attending Enable Exercise is my child's favourite time of the week especially to see Rhianne. We have attended their new premises and also get home visits and both are equally effective.
I've been attending Enable regularly for several years now. I have a spinal cord injury and having sessions with these exercise physiologists has improved my shoulder health, seated balance, and overall well-being, but above all it's the culture amongst the staff and clients that keep me coming back.
Friendly, fun motivating environment. Fantastic professional therapists. Continuously reaching your goals. Awesome social and safe atmosphere
Rachel Davison
2022-02-18
Came for the physio, stayed for the exercise physiology. Enable exercise have been fantastic and the gym looks great, but the best part is the community feel between clients and staff. Luke in particular makes it a pleasure to come and look forward to returning.